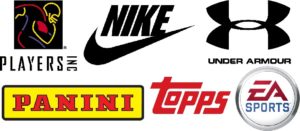 By Justin VanFulpen
When it comes to off the field marketing dollars for NFL prospects or players there isn't a lot of money or opportunities compared with the amount of players or prospects.  In terms of marketing the dollars and opportunities go to the skill players (Quarterbacks, Running Backs and Wide Receivers) and some top level defensive players.
NFL Players Inc., the licensing and marketing arm of the NFLPA has done a nice job getting group licensing deals done that involve all current active NFL players.  They work with companies like EA Sports the does the popular Madden Football Video game and many other companies.
There are some more standard marketing deals that get done:
Shoe and Apparel – Nike, Under Armour (Both companies licensed by Players Inc.)
But then there can also be some more creative deals to make dollars like getting paid to "Tweet" working with a company called Opendorse that is licensed by Players Inc. and the value of your "tweet" depends on how many Twitter followers you have.
Our a player can make additional money by having their own online t-shirt store with another licensed Players Inc. company 500 Level.
But be careful not to be fooled about how much money NFL players make off the field, it might not be as much as you think.  According to Opendorse Top 100 Highest-Paid Athlete Endorsers of 2016, which used Forbes World's Highest Paid Athletes as their resource – here are the top 15 paid NFL players in terms of endorsement earnings.
QB Peyton Manning – $15,000,000
QB Drew Brees – $12,000,000
QB Cam Newton – $12,000,000
QB Russell Wilson – $10,000,000
QB Tom Brady – $8,000,000
QB Eli Manning – $8,000,000
WR Demaryius Thomas – $1,200,000
WR Julio Jones – $1,200,000
LB Luke Kuechly – $1,000,000
WR Dez Bryant – $500,000
WR AJ Green – $500,000
QB Joe Flacco – $500,000
QB Philip Rivers – $500,000
QB Sam Bradford – $300,000
TE Zach Ertz – $200,000
So just know that just because a player is in the NFL doesn't mean that he is making a ton of money off the field in endorsements.  Yes there are ways to be creative and find different avenues for off the field dollars but the main part of a players income will come from his contract with his team.