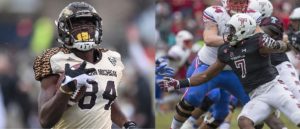 By Justin VanFulpen
Now that the 2017 NFL Draft is in the books, many people are looking forward to the 2018 including the draft prospects for next year draft.  But if there is one thing that stood out in the 2017 NFL Draft is film is king and for the most part nothing else really matters.  People get excited for the NFL Combine to come and see how fast the NFL prospects run but one of the biggest shocks to many was the WR Corey Davis, Western Michigan went #5 overall to the Tennessee Titans.  Davis got hurt training and never did any of the testing, never ran a 40 and still was the #5 overall draft pick and was the first WR selected in the 2017 NFL Draft.  He sent in a video to all 32 teams of him running routes showing that he was almost back health from his ankle injury before the NFL Draft.
LB Haason Reddick, Temple came into the season with a spring grade from NFL scouts with a grade that he couldn't play in the NFL (In the past it was called a reject grade), not even a low free-agent grade.  Basically saying he isn't even someone to watch as a draft prospect.  But what did Reddick do this season he showed on film that the scout spring grade was wrong, he had a huge season, he was second on the team in tackles, first of the team in tackles for loss and sacks.  With that great season got him an invite to the Senior Bowl which he had a great week in front of scouts many who at the being of the process back in the spring said he couldn't play in the NFL.  He was invited the NFL Combine and checked off the box on the numbers that a NFL linebacker should in the time and testing part.   Reddick went on to be the #13 overall pick in the 2017 NFL Draft by the Arizona Cardinals.
But as many GMs will tell you their team's board is set before the even get to the NFL Combine.  As Detroit Lions GM Bob Quinn said after this year NFL draft after drafting Teez Tabor out of Florida who didn't run well as the NFL Combine or his Pro Day.  (Link here)
Both Corey Davis and Haason Reddick where first round picks who didn't play in a Power 5 conference and both show that it is about the film, and that it not about your grade going into the season or what you run of even if you run a 40.   Film is key and at the end of the day that is your resume to NFL teams.