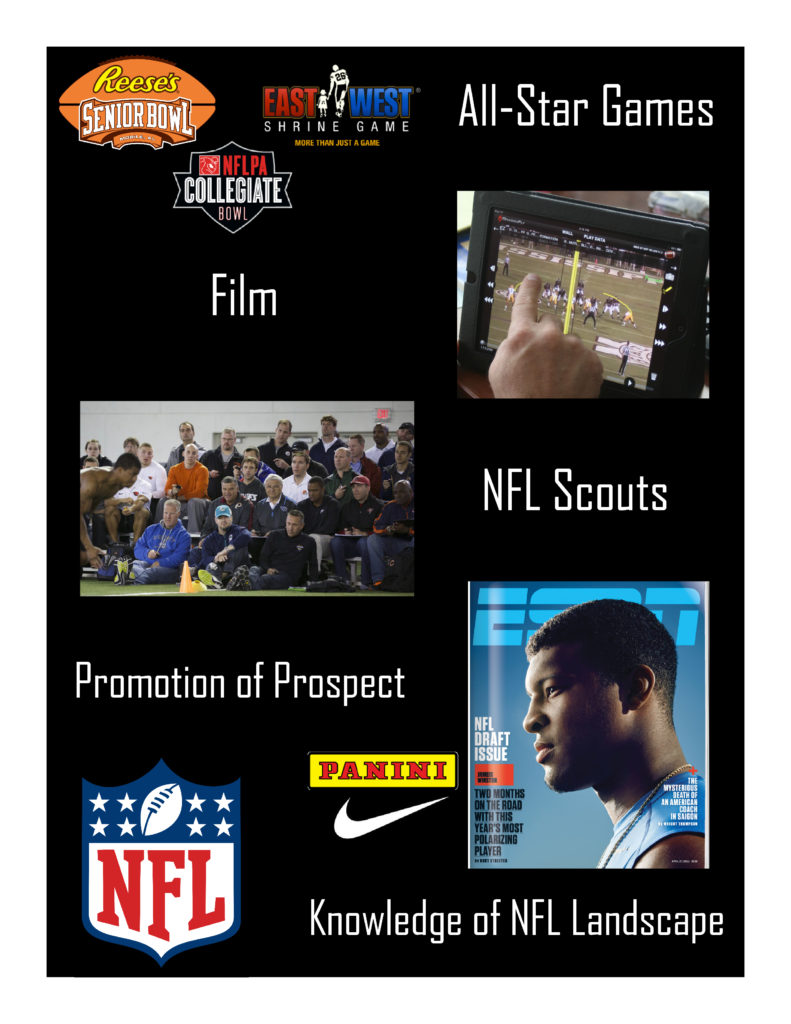 All-Games: Even before an agent signing a prospect he/she is most likely contacting the director of the all-star games but especially after a client has signed with an agent are they contacting the directors to see if they can get their client in a game. With the All-Star games being the last time football is practice or played it is the last time the NFL scouts will have a chance to evaluate the prospect in person, and as we always see players rise and sliding because of all-star game practice and game performances.
Film: Agents should be contacting scouts and coaches to sell and promote their clients best game film against their best level of competition that they played. With the game films agents can sell to scouts and coaches how their prospect fits into the team's schemes and how they would be an upgrade to their roster. Agents know that NFL Scouts have access to all the film via the NFL Distribution Center so a scout can pull up any game wherever he is at. Agents need to be selling the film to the NFL scouts and then coaches when they get involved in the process.
NFL Scouts:  Scouts make their own judgement and are paid to give their opinion on a prospects ability to play in the NFL.  Agents are contacting scouts to give them information about their prospect and sell their prospects ability to play football.
Promotion of Prospect: An agent is looking to use the media as a form of getting their prospects story out there also to make sure other teams know that there is more than just one team interested in the prospect. Also an agent is looking to see what deals that they can make in with different companies to make their prospect additional money off the field.  Some agent or agency might outsource these two jobs.  Two of the first things off the field in terms of marketing is a trading card deal and a shoe deal, but these deals will be different based on how high the player is projected to be drafted as well as what position that he plays.
Knowledge of the NFL Landscape: Each prospect is in competition with every player in their position as well as the current players at their position in the NFL, so an agent needs to have a working knowledge base to properly advise their client. They need to know what they of offense and defense scheme a team runs. It would be embarrassing if an agent was promoting a 3-4 defense end (5 tech) to a team that runs a 4-3 defense. Also if a prospect is not drafted where he is advising his client to sign is a big deal as if this prospect is just a "camp body" or has an actually shot at making the 53-man roster. What is the agent using to make a determination, what they are offer as a signing bonus or what the team currently has on their roster at their client position and the scheme the team runs? So knowledge of the NFL is an important thing.
These are just some of the tasks that an agent performs per draft there are many additional ones after the draft is over.