Is it against NCAA rules for players and parents to talk to agents?
No – It is not a violation of NCAA rules if a student-athlete merely talks to an agent (as long as an agreement for agent representation is not established or nothing of value is giving to an athlete) or socializes with an agent. For example, a student-athlete could go to dinner with an agent and no NCAA violations would result if the student-athlete provided his own transportation and paid for his or her meal.
Will NFL teams or scouts provide their spring grades on the player from the two scouting service (BLETSO & National)?
No – The scouting services (BLETSO & National) keep their information private and do not share it with players, parents, coaches, agents, trainers, etc.  Does the information leak out there from time to time and are people able to get their hands on it, yes but it doesn't come from the two organizations directly.
How do BLETSO and National come up with the spring grades?
Both scouting service will come in the spring and evaluate the upcoming senior's by watching film of the prospects junior year, talking to the strength and conditioning staff, the coaching staff, and the academic staff at the school about the prospects.   Some schools allow the scouts to come in and measure the prospects height, weight, hands size, arm length as well as have the prospects take the Wonderlic Test.  Some schools will even allow the scouts to time their players in the 40 yard dash, but very schools will allow this now.
Can players, parents and coaches contact the College Football All-Star games to recommend a player for the All-Star game?
Yes – Anyone can contact the All-Star games (Senior Bowl, East West Shrine Game, NFLPA Bowl, etc.)  to recommend a player and the sooner the better to make sure the player in on the games watch list or at least on the games radar that they would be interested in playing in the game.  The best person to contact is the director of the game.
How does getting invited to the NFL Combine in Indianapolis work?
National Scouting Service, one of the two scouting service that NFL team use run it, they have a committee of 10 members and they vote on the players that are selected.  Having a good spring grade goes along way to getting selected because spring grades are a road map to where NFL scouts are going to go and watch and evaluate prospects.
When can a player sign with an agent?
When his college eligibility is totally done (after last game, and college team has no more games) as a senior or if a player is going to declare early for the NFL draft he has to be 3 years removed from high school and once he declares for the NFL Draft he forfeits the rest of his college eligibility.
What is the maximum an agent can charge from the player NFL contact?
Per the NFLPA rules the maximum an NFLPA Certified Contract Advisors (agents) can charge is 3% – The agent only get paid after the player get paid off of the players signing bonus or other bonuses in the contract and the base salary.
What is the normal commission fee for marketing and off the field money made for the player?
Agents or marketing firms usually charge between 10% and 15% commission on marketing and off the field money.
Does a player have to hire an agent?
No – But NFL teams are only allowed to talk to NFLPA Certified Contract Advisors that represent the player or the player themselves.  They are not allowed to negotiate with family members or other non-certified people and if they do the team could possible lose future draft choices.
How does a player sign with an agent (NFLPA Certified Contract Advisors)?
They player signs what is called an SRA (Standard Representation Agreement) that is from the NFLPA and is standard for all players.  By sign this is also makes the player part of the NFLPA and Players Inc. (The marketing arm of the NFLPA).  At any time the players can fire the agent and has to wait 5 days to hire another agent to represent him.
What are the steps that go into getting a Senior prospect final grade?
Junior Day
Junior Film Study
Spring Grades
Training Camp Visits (By NFL Scouts)
Regular Season/Post Season
College Football All-Star Games
NFL Combine
Pro Day/Individual Works Outs
Team Grades (From Scouts, Front Office & Coaches)
NFL Draft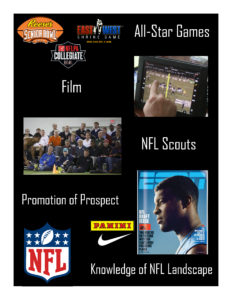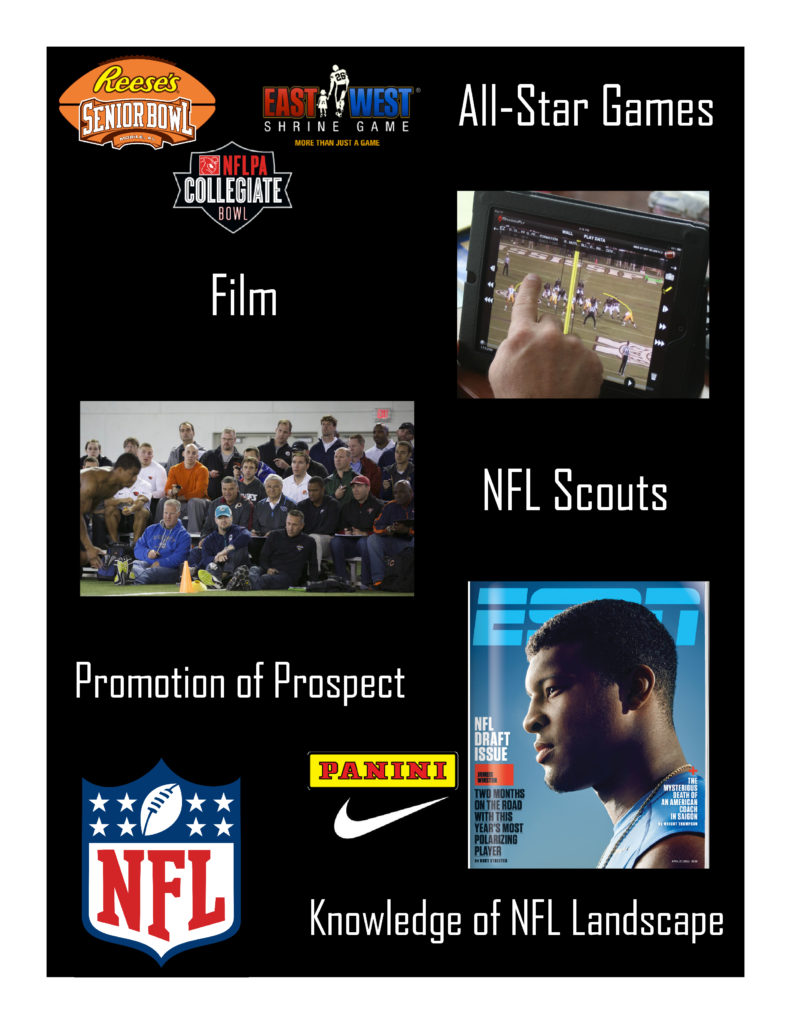 By Justin VanFulpen
All-Games: Even before an agent signing a prospect he/she is most likely contacting the director of the all-star games but especially after a client has signed with an agent are they contacting the directors to see if they can get their client in a game. With the All-Star games being the last time football is practice or played it is the last time the NFL scouts will have a chance to evaluate the prospect in person, and as we always see players rise and sliding because of all-star game practice and game performances.
Film: Agents should be contacting scouts and coaches to sell and promote their clients best game film against their best level of competition that they played. With the game films agents can sell to scouts and coaches how their prospect fits into the team's schemes and how they would be an upgrade to their roster.
NFL Scouts:  Scouts make their own judgement and are paid to give their opinion on a prospects ability to play in the NFL.  Agents are contacting scouts to give them information about their prospect and sell their prospects ability to play football.
Promotion of Prospect: An agent is looking to use the media as a form of getting their prospects story out there also to make sure other teams know that there is more than just one team interested in the prospect. Also an agent is looking to see what deals that they can make in with different companies to make their prospect additional money off the field.  Some agent or agency might outsource these two jobs.  Also each prospects ability to make money off the field will be different based on how high they are projected to be drafted as well as what position that they play.
Knowledge of the NFL Landscape:  Each prospect is in competition with every player in their position as well as the current players at their position in the NFL, so an agent needs to have a working knowledge base to properly advise their client. They need to know what they of offense and defense scheme a team runs.  It would be embarrassing if an agent was promoting a 3-4 defense end (5 tech) to a team that runs a 4-3 defense. Also if a prospect is not drafted where he is advising his client to sign is a big deal as if this prospect is just a "camp body" or has an actually shot at making the 53-man roster. What is the agent using to make a determination, what they are offer as a signing bonus or what the team currently has on their roster at their client position and the scheme the team runs? So knowledge of the NFL is an important thing.
These are just some of the tasks that an agent performs per draft there are many additional ones after the draft is over.