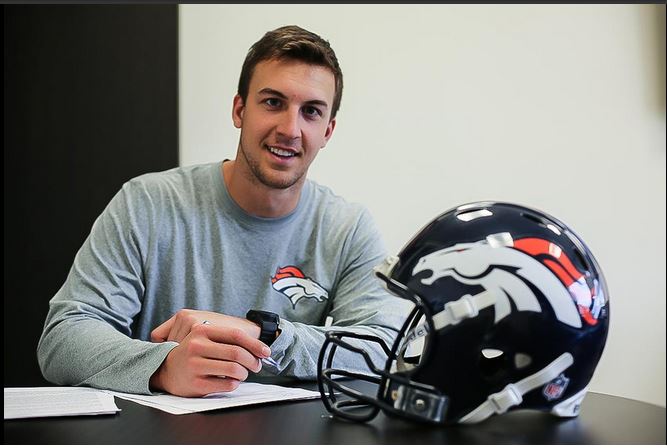 By Rick Serritella – Guest Writer 
Everything came crashing down on November 22, 2014 in West Lafayette, Indiana against Purdue just a week after Northwestern and Trevor Siemian had beat Notre Dame in upset, Siemian had tore his left ACL and him and many people thought maybe his football career was over.
What was looking like a breakout senior season that would help boost his NFL Draft stock, all of sudden ended in a single play with a pop. Suddenly, the agents stopped calling. How many teams would want to invest a draft pick on a quarterback rehabbing from a major injury? When the phone went silent, there was still one agent who showed a tremendous amount of interest in representing Siemian.
For college football players who have the talent to play at the next level, they will hear from numerous agents wishing to represent them, beginning in the summer and throughout the football season. Just like the recruiting process of selecting a school to play for, they must now weigh their options and determine which agent will provide the best opportunity for their professional career.
Early on in the process, Siemian was contacted by Justin VanFulpen, an agent for Summit Sports, about the possibility of representation. There were some texts back and forth about the process and what type of strategy would be implemented and then communication tailed off, leaving VanFulpen wondering if Siemian would even be a client. The college football season was winding down in December, when VanFulpen received a phone call from the father of Trevor Siemian asking if he was still interested in representing his son. A few conversations later Siemian, along with the advice of his family chose VanFulpen to represent him.
The next steps were to implement a plan of attack that not only would help Siemian receive world class training and rehabilitation but also the blueprint for how to maximize his exposure to NFL teams, while rehabbing from the ACL injury. On a Saturday afternoon in January, Siemian and VanFulpen met at a local restaurant near the Northwestern campus for several hours to hash out the details.
Once the plan of attack was established, it was up to VanFulpen to deliver for his client to ensure every step of the process would be handled with great care and executed with precise attention to detail.
Due to the nature of his situation surrounding the injury, Siemian was just six weeks into the rehabilitation process and required a more personalized training regime. The next step required VanFulpen determining the best place for Siemian to train leading up to the 2015 NFL Draft.  Siemian had torn his left ACL in his knee and it would take at least six months to heal and would have to get cleared by the doctor that did the surgery as well as any team doctor in the NFL, before they would like him back on the field to compete.
In February, VanFulpen would travel to Indianapolis for the NFL Scouting Combine to meet with renowned NFL Trainer Brian Martin, who has prepped hundreds of players with his football combine training program. Not only would Siemian speak with Martin but his new company, Parabolic Performance and Rehab in New Jersey was also staffed with some of the premier doctors in the state.
After the initial dialogue with Martin in Indianapolis, VanFulpen was certain that Parabolic Performance & Rehab was the best option for Siemian's training. Not only would he receive personalized one-on-one training with quarterback guru Jay Fiedler but Siemian would also be tended to by the doctors on a daily basis, a unique business model in the combine prep training industry and a first of its kind. Next, VanFulpen arranged a phone call from Indianapolis for Siemian to speak with Martin and his team of doctors. It was unanimous, Parabolic Performance & Rehab would be their training facility of choice.
Since Siemian wasn't a household name to the mainstream media, VanFulpen began tapping into his media connections in order to help get Siemian additional exposure. In addition to coming off an injury, Siemian was not one of the 15 quarterbacks chosen for the combine. It was beneficial to help get Siemian's name and his story out to the masses as much as possible. Soon, a google search typing in 'Trevor Siemian NFL Draft' would net over 25,000 results.
Before leaving for Parabolic and training Siemian and VanFulpen made the decision that it would be a good thing for Siemian to go Northwestern Pro Day on Tuesday, March 3rd even if he couldn't do any throwing or anything at all to see the NFL scouts that would be there and let them know about the plan and also to support his teammates as they went thru the process.
During the training process, VanFulpen would keep all 32 NFL teams abreast of the progress Siemian was making, which included scanning and emailing over the latest medical reports and progress evaluations. In March, VanFulpen would receive a phone call from Matt Russell, the Denver Broncos Director of Player Personal. Russell expressed the interest that the Broncos had in Siemian and wanted to fly him in for one of their Top 30 visits. Each NFL team can bring in only 30 prospects to their team facility to meet with their coaches, doctors, front office staff and scouts.  To make things work with everyone schedule on April 2nd Siemian flew from Parabolic in New Jersey, to Denver and they back to Chicago the same day.
Siemian was invited to the Chicago Bears local workout on Wednesday, April 7th where he went and just was able to throw three and five-step drops for the Bears scouts to see.
On April 8th the night before his April 9th throwing day at Northwestern, Siemian would have dinner with Broncos quarterback coach Greg Knapp, an inkling that there could be serious interest from the organization.
While Siemian was not yet cleared by doctors to do a full workout for NFL teams, VanFulpen coordinated a throwing session for scouts and executives, so that they could see the progress made since the injury. Unable to roll out due to the rehab process, Siemian would put his arm on display with a workout that included about 60 throws and involved three-step, five-step and seven-step straight back drops. The Green Bay Packers, Oakland Raiders and Tennessee Titans would all be in attendance for the workout but there was one familiar face in the crowd who stood out, the Broncos Greg Knapp. Following the workout, Siemian and VanFulpen went to lunch to discuss what to expect over the course of the next month leading up to the draft, which was being held nearby Siemian's alma mater in Chicago.
The workout generated more interest from teams around the league. The Cleveland Browns were next to call and fly Siemian in for one of their top 30 visits. The Browns also had legitimate interest, meeting with Siemian for two days on April 19th and 20th, the following day on the 21st, Cleveland quarterback coach Kevin O'Connell and offensive coordinator John DeFilippo would put him through a private workout.
Because of the interest VanFulpen was able to set up multiple interviews and stories with outlets like The Sports News, CBS Sports, NFL.com, and more to help push Siemian name and story.
As word spread around the league, Siemian's draft stock was skyrocketing at the ultimate time. With just two week's to go leading up to the draft, VanFulpen was receiving phone calls from teams on a daily basis. It was his belief heading into the draft that if there were six quarterbacks selected by round five, that Siemian would have a strong chance of being selected, information which he would share with his client.
All the hard work had been done. Siemian had maximized the most of his exposure, despite being limited by the injury. VanFulpen at this point had spoken with every NFL team in regards to his client. It was now time to sit back and watch how the 2015 NFL Draft, held April 30th thru May 2nd would unfold.
On day one of the three-day event, Thursday, the two quarterbacks selected number one and number two overall were the talk of the draft. Jameis Winston and Marcus Mariota were off the board and there was talk near the end of round one that the Saints were contemplating a quarterback but did not actually come to fruition.
On Friday, the NFL would conduct rounds two and three. There wasn't a real sense that Siemian would be drafted that day but Siemian and VanFulpen would watch in anticipation to see how many quarterbacks would be gone entering day three. Much to their dismay, just two more quarterbacks were selected, bring the total to four, through the first three rounds.
The final day, Saturday, would hold the fate of Siemian's future, as rounds four through seven would be completed. Whether his was to hear his name called during the late rounds or sign as an undrafted rookie free agent, Siemian would know which city he would be locating to begin his NFL journey.
The way the draft was unfolding, Siemian and VanFulpen could expect the unexpected. Many of the draft pundits had signal-callers Bryce Petty and Brett Hundley rated as early round prospects. They would not come off the board until round four, when the Saints finally decided to use one of their picks on a quarterback with Petty and round five, with Hundley landing with the Packers 147th overall. The sixth round would pass by without a single quarterback being taken.
Siemian had received a text earlier that morning from Cleveland stating that they were going to find a way to make him a member of the Browns. Early in the seventh round, VanFulpen's phone would ring—It was a number he did not recognize.
It was Brian Starks and area scouts from the Denver Broncos on the line expressing interest to potentially bring Siemian in as an undrafted rookie free agent. Preparation is the key to success and VanFulpen was quick to inform them that other teams had expressed interest in Siemian. He also knew that Denver held three picks at the end of round seven, which he was wise to pint out, suggesting that the team should consider using one of those selections to ensure Siemian was a Bronco. The conversation concludes with no sure commitment that Denver would select Siemian. It would be up to general manager John Elway, a Hall of Fame quarterback in his own right, to decide.
Following the dialogue with Denver, VanFulpen turned his attention to his client and discussed options with Siemian and his family should he not get drafted. They all agree that Denver is the best landing spot but wait and see how the remainder of the draft would unfold.
It was pick number 249 and Denver would be on the clock next with the first of their three selections in the seventh round. Having an inkling that Siemian could be selected here, VanFulpen turns the dial to ESPN for their draft coverage. As he awaits the pick, he looks down at his phone and starts receiving congratulations texts, as he switches over to NFL Network, they are running Northwestern highlights of Siemian. With the 250th overall pick in the 2015 NFL Draft, Siemian had been selected by the Denver Broncos! Knowing that this was the scenario everyone in their circle wanted the entire time, VanFulpen high-fives his brother with excitement and joy!
The process was over and the journey was finally complete. Reaction poured in from social media and news outlets were stunned at how the seventh quarterback drafted was one coming off a torn ACL, did not receive an invitation to any of the prestigious all-star games or the NFL Scouting Combine…how did it happen they wondered in amazement? To sum it up simply, in two words, hard work!