Memorial Day weekend is the unofficial kick-off of summer, people normally will get together to BBQ and spend time with family and friends.  It is also normally the official kick-off to the next years NFL Draft scouting process where the two scouting services BLETSO and National Football Scouting (NFS) have their annual meetings in Florida to read their spring grades on the upcoming senior prospects and go over the information that was gathered in the late winter/early spring at "Junior Days" on college campuses.  Which this year due to COVID-19 those "Junior Days" did not happen.  You might ask why does this even matter – I give you S Kyle Dugger.  This time last year most of the football world did not even know who Kyle Dugger from Lenoir-Rhyne was.  In the 2020 NFL Draft he was the 37th player drafted, the second safety drafted, and the New England Patriots first pick in the draft. 
The last player drafted out of Lenoir-Rhyne was DL John Milem in the 5th round in 2000 by the San Fransico 49ers who played 20 games in the NFL in his career, and before Dugger was Lenoir-Rhyne highest player drafted ever. So not a hot bed of NFL talent when it comes to Lenoir-Rhyne history, which if you are wondering the school is in Hickory, North Carolina.
But that is why Junior Days are so import for small school prospects to be able to get on the radar for NFL teams, as well as the NFL Combine and All-Star games like the Senior Bowl in which Duger went to both the Senior Bowl and the NFL Combine.   Last spring when BLETSO and National scouts came to Lenoir-Rhyne and did what they normal do with all Senior prospects a school has, getting their height/weight/arm length/hand size as well as some schools allow guys to run the 40.  This past spring Duger was 6005/218 and ran a verified 4.45 in the 40-yard dash.  So with his Junior film and his verified measurements both scouting services gave him a high grade but not close to a grade where he got drafted, but it got him on the radar to get invited to the Senior Bowl and the NFL Combine both hugely important for a small school prospect like him.     At the NFL Combine he was 6007/217 and ran a 4.49 in the 40-yard dash, not too much different from his spring numbers.
Without "Junior Days" this year because of COVID – 19 it will be harder for people to identify this year's Kyle Duger.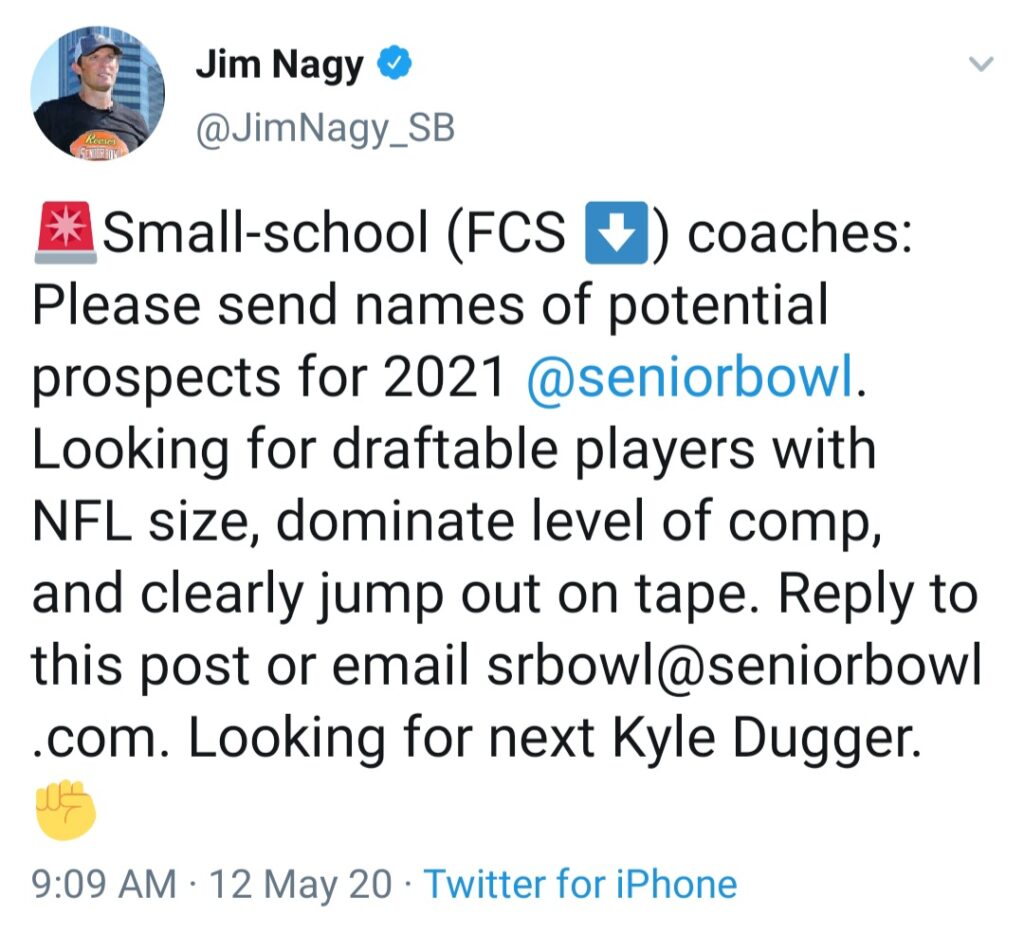 This Memorial Day weekend both BLETSO and National will still hold their "Spring Grade" meeting but after talking with scouts it will be over Zoom instead of in person like normal.  But without "Junior Days" small school prospects will have a harder time then in the past to be truly evaluated and get a legitimate opportunity.  
The grades are just a road map for scouts as we have seen in the past 3 seasons all three number one overall picks (Baker Mayfield, Kyler Murray & Joe Burrow) have come basically out of nowhere since all of them had less then a 4th round grade going into the season when their last season started.   But it is a road map that is need as their are thousands of college football seniors, and the "Spring grades" not only identify who to evaluate but also who the scouts doesn't need to spend their time evaluating.